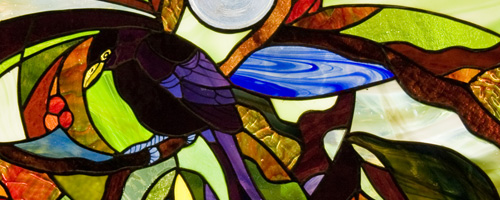 Born in Nenagh, Co. Tipperary, Ireland in 1941, Claire Mulholland studied at University College, Dublin, and the National College of Art, Dublin, before moving to Glasgow in 1964. Having spent much of her career painting in oils, she began working in glass in 1994. Her work has been exhibited in Scotland and Ireland, and is in private collections in the UK and Ireland, Germany, South Africa and Canada.
Subjects vary from abstract to figurative, spiritual to pictorial. The Rock Chapel windows bring the total of church windows to sixteen, including St Peter's in Glasgow's West End and St Brendan's in Yoker, Glasgow.
"Back around 1994 I asked myself – what would I regret not having done? It was work with glass. I haven't looked back. I love colour. I love the intensity of light through coloured glass – the way it changes, varies, and comes alive in different light and at different times of the day. I love the way it transforms a dull building, a dark corner or a dreary day. When I painted I tended to get bogged down in too much detail. The limitations of glass force me to approach things the other way round. What can I not leave out? It makes me focus on the essential, reduce to the simplest element. What line, shape, colour will express what I want to express?
I particularly enjoy abstract work, where possibilities of interpretation are open-ended and people can respond at many levels and in different ways. I had a dream for many years of doing a chapel of colours, with each window in a different colour of the spectrum, with a colour "psalm" to go with each. I had no idea it was waiting for me on top of a hill in North Wales!
The exhibition runs from Saturday 8th October until Friday 28th October.