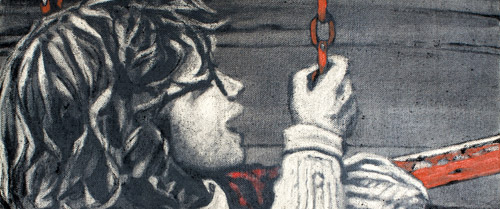 Lorcan Vallely was born in Armagh in 1979. His family have been involved in the art and music scene in Northern Ireland for two generations. He completed a foundation course in art and design at the Belfast Art College in 2000, before moving to Bath School of Art to study painting. After completion of his B.A. there, he attended a Postgraduate Diploma in Fine Art course at Chelsea College of Art in London in 2004, before spending a year in Oxford drawing and painting full time as a member of the artist-run Magdalen Road Studios.
He has exhibited in London, Bath, Oxford and throughout Ireland as well as in Italy. Since 2008 he has been working mainly from his studio in County Louth. He spent a year in Glasgow painting at a studio in the Hidden Lane.
Lorcan's work has become instantly recognisable, with a very distinctive personal style.Using charcoal as his primary medium, and with a judicious use of acrylic, he layers his work to emphasise light and shade. This tonal quality gives his work an almost three-dimensional effect. The occasional use of oil to introduce colour brings an added vibrancy. He has had numerous solo and group exhibitions and has also completed many public and private commissions including "Song 4 Dylan" – a charcoal piece in response to a poem for the 7th Open House Festival in Belfast and "Mohammed al-Durra", a large scale mural in Orgosolo, Sardinia.
This is his first exhibition in Scotland.
The exhibition will be running from 11th June until Mid August 2011.