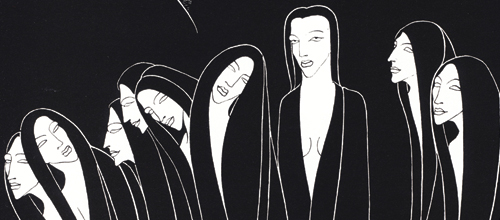 Hannah Frank, 1908 – 2008.
This new Hannah Frank exhibition opens at the gallery on 11th September and runs until the end of October.
Hannah Frank studied at Glasgow University and the Glasgow School of Art. She produced her hallmark black and white drawings, with their elongated structures, medieval romanticism and often melancholy air, from the age of 17 in 1925.
Between 1927 and 1932 the GUM, the Glasgow University Magazine, rarely came out without a drawing by 'Al Aaraaf', her chosen pen name. From the 1940s, after her marriage to mathematics teacher Lionel Levy, Hannah's drawings became light-filled and exuberant.
Hannah turned to sculpture in 1952, studying with Benno Schotz, at the Glasgow School of Art. Hannah's haunting drawings are resonant of the Art Nouveau period with a hint of Aubrey Beardsley and Jessie King. Hannah's drawings, and her later sculptures, have been exhibited in the Royal Glasgow Institute, the Royal Academy, and the Royal Scottish Academy. In 2009 Hannah Frank became the first person ever to receive a posthumous honorary doctorate from Glasgow University, which was received on her behalf by her niece, Fiona Frank.
This exhibition is the first since Hannah Frank's death, and includes the largest collection of Hannah Frank sculptures to be put on show for 20 years. It also includes five original Hannah Frank drawings that have resurfaced in a private collection in Norwich and were last seen by the public in the 1970s.
Also on show will be poems – and the Hannah Frank drawings that inspired them – written by winners and runners up to the first ever Hannah Frank Poetry Competition. The prize giving for this international competition took place at Kelvingrove Art Gallery and Museum, Glasgow on what would have been Hannah's 102nd birthday – 23 August 2010.
Vanessa Austin Locke, who won the adult category of the competition, said: "I feel honoured to have had the opportunity to essentially collaborate with an artist whose work and legacy really touches me. Hannah's work represents three themes that I feel very close to; the feminine, the fey and cultural Judaism. These were the strands that I tried to weave through my poem."
We plan to run poetry workshops during the exhibition: watch this space or call the gallery for details. Schools and writing groups are also welcome to arrange to visit the gallery and run their own small sketching or poetry workshops: there is room for 16 people to sit in the lower level of the gallery. Call the gallery to book a time.
There will be an opportunity to bid on a small number of original Hannah Frank drawings as well as purchase signed prints and canvas reproductions of Hannah Frank art. Recasts of sculptures, books, prints – some signed – and cards, will also be on sale at the exhibition.
Hannah Frank, A Glasgow Artist.
Running from Saturday 11th September until end of October 2010.
Opening times: Tuesday to Saturday 11am – 5pm.
Entry is free.
For more information visit: http://www.hannahfrank.org.uk