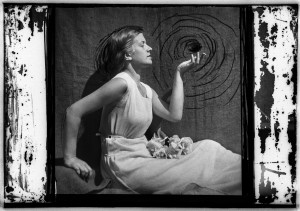 10 August – 20th Sept
Domicele Tarabildiene – A Challenge to Time
Domicele Tarabildiene (1912–1985) was a well known interwar artist whose spectrum of creative means and expression was wide – engraving, book illustration and applied graphics, painting, and sculpture. Her poetic and surreal photography, however, has only recently attracted public attention in Europe. This exhibition is the first time this work has been seen in Scotland – indeed the UK –  and presents 34 signficant photographs from the early 30s, most using the photomontage technique. "What is fascinating is not just the artist's courage in exploring experimental forms of expression, but also her decision to be her own model in the photographs. Her artistic exploration crossed the line of experimentation, and testifies to her interest in the avant-garde constructivist ideas of the time, as well as her exceptional ability to express herself creatively in various art forms. Tarabildiene is a symbol of human emancipation; although she was born in the countryside, she matured as an artist in the town, and used it as a source of creative inspiration." Ieva Mazuraite-Novickiene, National Gallery of Art of Lithuania.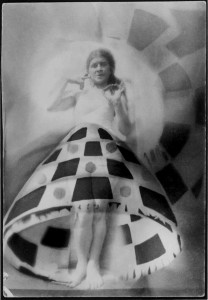 This exhibition is part of the Lithuanian Season of Photography in the West of Scotland and is presented at Hidden Lane Gallery in partnership with Street Level Photoworks and Kaunas Photography Gallery.
Running concurrently at Street Level Photoworks (August 10th to 6th October) is 'Borderlands II'. Seewww.streetlevelphotoworks.org for details of all exhibitions.