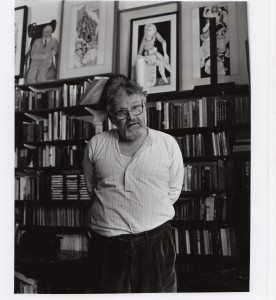 Alasdair's family has asked us to let his many friends know that Alasdair continues to be critically ill after his accident in June. A serious spinal injury has left him largely incapacitated in the Intensive Care section of Glasgow's Royal Infirmary, with a lung complication giving cause for concern. His son Andrew, home from the United States to be with Alasdair, has told us that small signs of improvement in recent days have given cause for some optimism. He's not yet ready for visitors, who are limited for the present to his immediate family and one or two very close friends.
We plan to give a bulletin on Alasdair's progress whenever there's news.
The family thanks everyone for their concern, cards and letters.
(Photo credit: Alan Wylie)
Lanark, A Life in Three Acts, the play based on Alasdair's book Lanark, opens at the Citizen's Theatre on the 14th of August and runs until the 19th of September. It will also be on from the 22nd to the 31st of August at the Royal Lyceum Theatre as part of the Edinburgh Festival.
The exhibition, Alasdair Gray: Sixty Years of Prints, will continue to be shown at the Hidden Lane Gallery until the end of August.