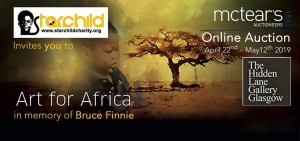 Starchild is a Glasgow based charity that believes the development of young people can be significantly enhanced through the inspiration provided by their participation in the arts.
We welcomed them to the Gallery in April/May 2019 with around 100 wonderful paintings including works by Peter Howson, Ross Muir, Alexander Millar, Frank McFadden, Laetitia Guilbaud, Moe Rocksmoore and Iain Faulkner.
The charity has deep links with Uganda and has built a School for Creative Arts in Uganda. This school and vocational centre allows vulnerable young people, who would otherwise never have the opportunity to develop creative talents, a chance to build up their skill base, enhance their prospects and provide many hours of enjoyable tutoring and performances.
In partnership with the Gallery and McTears auctioneers the online auction was live from April 22nd through until May 12th and raised an incredible £17,000.
This year Starchild held the auction in memory of a dear friend Bruce Finnie. Bruce owned By Distinction Art, Byres Road and supported Art for Africa from the beginning.