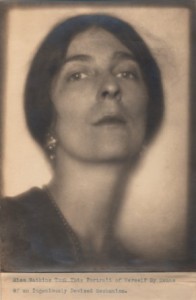 Classic Margaret Watkins
From Tuesday 14th August
This exhibition has been put together to show the wonderful range in both subject and treatment, of the work of Margaret Watkins. She lived for 40 years in Glasgow in the seventeen-room dark and dreary house from which her mother had married in 1881. Margaret was born in 1884 and after a business disaster for her father she moved ultimately to New York in her early 20s and took up photography around that time. She attended the renowned Clarence White School of Photography and after a few years was taken on to the staff. She taught many known photographers including Paul Outerbridge and Margaret Bourke White. Others were credited with bringing their cameras into their kitchens. She taught many of these people who were later credited with this innovation. In New York she was at the top of her profession, editing the prestigious annual publication for Pictorial Photographers of America and working with Gertrude Käsebier, Edward Steichen and Alfred Stieglitz. In 1928, after a professional and personal upset with Clarence White' widow, she came to Glasgow, intending to stay and 'do Europe' for a year or two. Forty-one years later she died in Glasgow with her bags still packed to return to New York.
Prior to her death in 1969 she gave a present to her neighbour, gallery proprietor Joe Mulholland, a large box wrapped in brown paper, tied and sealed with ceiling wax, but with one condition: he was not to open it until after her death. In her years as a recluse in Glasgow, she never once mentioned photography, the field in which she had excelled. For almost 50 years Joe Mulholland has worked to establish her position in the history of photography and as a great artist. A major exhibition in the National Gallery of Canada in 2012 gave her the accolade that had eluded her in her lifetime. She is now represented in many major international public collections and her work has appeared in dozens of books.
As well as the major works on show made by her in New York, there is a selection from her work in Glasgow, London and especially Paris and Russia.
The Hidden Lane Gallery, at 1081 Argyle Street, Glasgow G3 8LZ, is open Tuesday to Saturday from 11am-5pm