Margaret Watkins and the Clarence White School: Palladium and Platinum Prints 1919 – 1925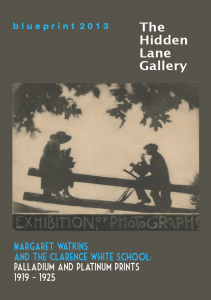 The Hidden Lane Gallery shows palladium and platinum prints by Margaret Watkins and many of her students at the Clarence White School of Photography in the period 1919-1925.
The School opened in New York in 1914. Watkins attended its Summer Schools and was apprenticed to Alice Boughton, a portrait photographer in Boston, herself taught by the renowned photographer Gertrude Kasebier. Watkins became a full time student around 1917, and within a few years joined the staff. The curriculum for the school included commercial and hand-coated platinum, silver, printing out and gaslight, single and multiple carbon , single and cowhide gum, oil, bromoil and photogravure.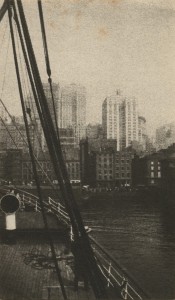 During the First World War the price of platinum rocketed, as it was needed for explosives and ammunition – which multiplied the cost of making platinum prints. This led to the development (by William Willis in 1915) of the palladium process, using a metal closely related to platinum, and creating Palladiotype paper. White, Watkins and others at the school adopted this process.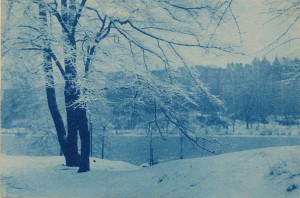 After her arrival in Glasgow in 1928, Watkins continued to use palladium – but more importantly for the current exhibition, she bequeathed her own photographs and a unique collection of many by her students to her neighbour Joe Mulholland. These show works by known and unknown names; class exercises demonstrating up to ten different treatments of a single image, her hot processes, blue prints, carbon examples and some processes which even the experts are now unclear how the effects were achieved – or what the process was.
Margaret Watkins and the Clarence White School: Palladium and Platinum Prints 1919 – 1925 is part of the Blueprint Photography Festival, along with venues including Trongate 103, Street Level, Glasgow Print Studio, the University of Glasgow, Riverside Museum, the Mitchell Library and RGI Kelly Gallery. The exhibition runs from February 8th until March 12th, 2013.