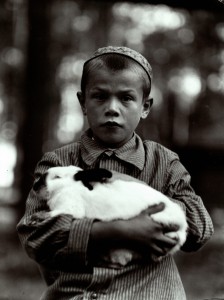 Arrested by officers of OGPU — the KGB's predecessor — Margaret Watkins claimed her photographs of their HQ in Moscow were purely to record post-revolutionary Russia. The Glasgow-based photographer was in a group organised by a fellow member of the Royal Photographic Society, through Intourist, the State agency charged with bringing visitors, and foreign currency, to the country.
It was in August 1933 that they set off from a wharf on the Thames near Tower Bridge, London, in the State-owned Cooperatzia. First call was Leningrad, where they were given the ground rules; photograph no bridges, military installations, soldiers' manoeuvres, public or military buildings — especially not the Kremlin. These could be of use to foreign enemies planning a bombing campaign on the understandably paranoid post-Revolution State. So only the odd soldier in the streets or on stage at a state-run youth rally. Lots of snaps of processions, picturesque windows, interesting characters and blocks of workers' flats. These latter would show how the Soviet Socialist Republic looked after the proletariat.
One building looked as interesting as the next to Canadian-born Margaret Watkins, who had come to Glasgow in 1928 to visit her maiden aunts in Hyndland, in the house from where her mother had married in 1877. Worker flats were snapped with titles later appended by her, like "Reconstruction" or "Progress". However, one block proved to be a problem. No sooner had she set up her Graflex camera and clicked a few shots than she was descended on by the security police, and rushed to the secret police headquarters.
Hours of interrogation by junior officials followed and things looked gloomy for her. She explained that she thought the impressive building looked like good workers' acccommodation. Her camera and films were taken away to be examined. A senior official became involved. She explained again. She was a photographer, following in the footsteps of one of her illustrious pupils, Margaret Bourke-White, who had visited Russia a couple of years before, and produced a six-part series (adulatory, of course) on Russia. The series had been published the previous year in the New York Times magazine, to the great joy of the Russian State propagandists.
Sense prevailed and she was released, with her beloved Graflex — but sans film. All film taken on the trip had to be surrendered to the authorities, who had it developed, inspected and (if found to contain no prohibited images) returned in a sealed envelope. This envelope had to be produced at the port of departure, opened by the Secret Police agent there, and checked against the inventory of approved images that accompanied it.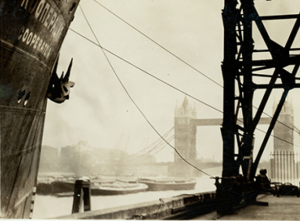 Margaret Watkins got out of the country with over 600 negatives. She made silver gelatin prints from a small number of these (some to exhibition standard) when she returned to her aunts' home in Westbourne Gardes in Glasgow's West End.
Eighteen of her original prints are now on show at the Hidden Lane Gallery in Argyle Street, Finnieston in Glasgow, together with another 80 from the "approved" negatives. These are also silver gelatin prints, made by Glasgow master printer and photographer Robert Burns. Most of these are now printed for the first time.
The Hidden Lane Gallery, at 1081 Argyle Street, Glasgow G3 8LZ, is open Tuesday to Saturday from 11am-5pm (www.hiddenlanegallery.com). The Margaret Watkins "Leningrad and Moscow 1933″ exhibition is on until 6th February 2013.