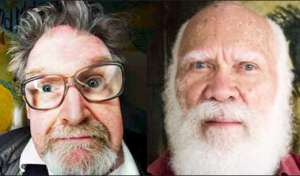 Leading Scottish writer Alasdair Gray is also an established artist, who this year celebrates his 80th birthday. Poet, painter, graphic artist and short story writer, he will have a major retrospective exhibition at Kelvingrove later this year.
He has recently been branching off in a new direction with his paintings, experimenting with abstract design and colour. A half dozen of these paintings form a third of the Hidden Lane Gallery's show.
He will be joined on the gallery walls by Haiti's leading writer, Frankétienne, the 78 year old poet, song writer, novelist, graphic artist and painter whose name has been mooted as a possible Nobel literature laureate. Frank will show a dozen of his most recent works and launch a CD of his songs and poems set to music by Haiti-based Glaswegian Mark Mulholland. Frank recites and sings while Mark plays on guitar. Frank writes in Creole and French. His was the first novel written in Creole in the troubled Caribbean republic that broke from France in 1803.
The parallels between the two artist/writers are extensive and fascinating.
During the exhitibition we will have for sale limited first edition hardback copies of Gray's 'Mavis Belfrage', 'The Fall of the Kelvin Walker' and 'A History Maker' at their original published prices, and limited edition screenprints by Glasgow Print Studio. Also for sale is the most recent highly acclaimed Frankétienne/Mark Mulholland collaboration CD 'Chaophonies'.
Saturday 22nd March – Saturday 17th May 2014